In July 15 Dutch people visited Anna Home. Nearly none of them was in Mongolia before. One of them, Marion Steendam-Buys, tells her story:
My visit to Anna Home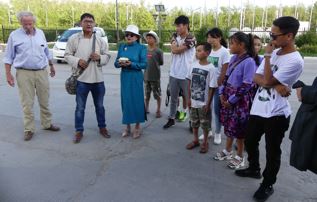 There we are. On the parking lot, surrounded by children from Anna Home, who welcome us when we arrive in our hotel in Choibalsan. Heard and read so much about them, far away and now so close, what a surprise!
Faces, names, everything and everybody look alike, the high jugular bones, the narrow eyes, some children are distinguished by their clothes, especially the girls wear beautiful dresses, because of Naadam, they explain to me. What a reception, certainly for Maarten, so warm and loving, as if it is family! I get that confirmed more than once in the following days. I meet Boldsaikhan, the director; directly I feel sympathy for him, because of his honest and friendly  appearance.
The next day after the Naadam festival we are expected in Anna Home for coffee. My first acquaintance with this children's home is positive, everything is there to look well after 25 children aged 4 to 18 years, in particular in the person of the three "teachers", friendly and quiet women who take care of a loving and safe environment.
Obviously in material terms the standards are not the same as ours, the matrasses are really thin, the lockers are the only storage space for each child, the small house outside serves as toilet. But the children all look well dressed, their nails are cut and they behave with good manners. They don't complain, they don't whine, don't ask attention. Not just because of the visitors from Holland? Of course this is a first and superficial impression, later I will meet children who are clearly traumatised by the loss of their parents.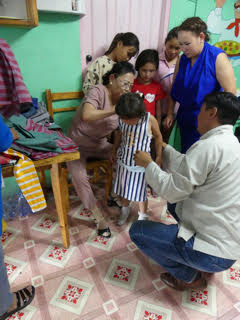 The clothes that were donated in The Netherlands by a company that makes them are distributed by the teachers, that was really a party for the children. For each child there is something, a dress or a legging, trousers or a shirt. Particularly the older boys like to be on the photo with their new T-shirt!
.
.
.
.
.
Here in their own surroundings they form an "extended family", they deal with each other as brothers and sisters, very harmoniously, very satisfied, I do not hear any dissonance. The days fill themselves with highlights, for them, for us.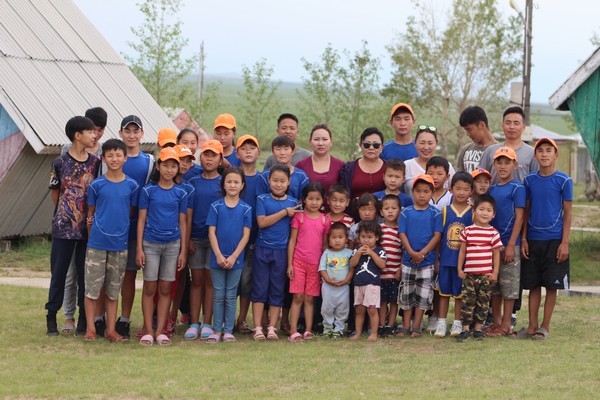 The trip to the countryside is one of them, it is just like a school trip. On a field near a river we settle down. The children are swarming out, play volleyball, chop wood for the fire, enthusiastically participate in tug of war and jumping rope with the rope that was brought from Holland for just this purpose. What a fun they have! The musical instruments find an eager audience and use. A girl concentrates on trying the recorder, a little boy holds the tambourine firmly against his chest, does not want to share it with anyone for a while.
It is a warm day, the river is close by, outerwear is taken of, big and small pampers and splatters in the knee-high water, what a fun!  They come loose, especially the little ones know to find the adults for a ride on the back or other fun together.
In the meantime a sheep is slaughtered that in pieces, mixed with potatoes and carrots, in a kind of milk can is made into a tasty stew.  Sitting on the ground the children enjoy this feast with their hands. Afterwards, it is striking how disciplined the children tidy up and do the dishwashing.
Another special experience is the farewell from Anna Home that three boys make, because in September they start studying in Ulaanbaatar. In a speech on our last day they express their gratitude for the 10 years they have lived here, for the chances they received to come this far, it evokes the same emotion among many of us, as when our children left home to study.
With our farewell each of us receives as memory and as thanks a beautiful black and white drawing made by one of the children and a gift in the form of a saddle. Very sweet, but they are not necessary to remind us of this special encounter with these vulnerable children who need our attention and that is why we become a donor!
Boldsaikhan writes us:
Summer camp 2018
This year we went to ''peace camp'' with all kids and teachers, 5 days not far from Choibalsan. We did not go far because we have some small kids in Anna Home and also we are with many people including the students, the big boys and the workers. We were with 35! The first day we prepared for camp and looked around in nature and in the house. It was really a kids camp and all kids were happy.
The second day at breakfast we made three groups. In the evening we did with some kid's small wrestling and running competitions, it was so fun. The second day went so fast.  In the evening all kids were tired and slept well. The third day we walked to the river with kids and played in the so green land of the beach. After that we met some people from Inner Mongolia who made good friends with our kids and they made for us some food. In the evening we did some dancing, I played some songs and we did some fun games. It was great time this third day. We had a very peaceful holiday.
A new boy came to Anna home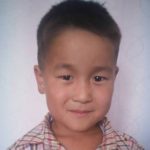 N.Usukh-ireedui is 6 years old. He came to Anna home with his grandmother because his mother left him two years ago. In that time he lived with his grandmother. His father has no work and no income. His grandmother is getting old, she can't help him and she wants us to have him in Anna Home and let him go to school. We will try to let him go to school and help him for his future good life. When his grandmother left he was sad, but after I showed him our garden, the little bird house and some games it was better, he made good friends with many of the kids.  Now he is doing good.
Three students in UB
In August three boys started their study at the university in Ulaanbaatar. That is a major change after having lived more than 10 years in Anna Home. Boldsaikhan brought them and found rooms for them to live. Altantulga: "We had to go shopping and that was fun". All three of them went to the introduction of their study. Ganbaatar: "I am going to make many friends here!" They are very grateful to have this possibility, thanks to all the contributions from The Netherlands. Ulziibat: "I am now in the capital. When still living in Anna Home I imagined the city very different. Looking back at my life, it looks as a normal family life; although I lived in Anna Home, it was not very different from a normal family".