The 25 children live together in the house and all have tasks in the household. They wash, clean or help with cooking. They take care of each other. They all go to school. We want them to be able to build an independent existence and for that they must at least be able to read and write.
In principle our children are between 4 and 18 years old. Sometimes an even younger resident comes because there is no other option. But that costs a lot of extra care. If someone turns 18, has done their final exams and wants to continue their studies at the technical school in Choibalsan, then that is possible. For that we have the transit house. Some are going to study at a university in Ulaanbaatar. We also continue to take care of them.
The Mongolian NGO employs people: Boldsaikhan, the director and founder and three women who stay in turns 24 hours in the house:
These three women take care of the children: cook; wash; clean; ensure that they leave for school on time; and help with their homework when they return.  However, these women have a greater role.  Not only do they attend to the normal needs and concerns of young children but they also have to address the raft of emotional needs exhibited by children who have suffered years of neglect and abandonment.  These are special children and these women are raising them.
Since 2020 there is a cook who relieves the mothers.
There is also a handyman, Batbayr, who has been working in the house for many years.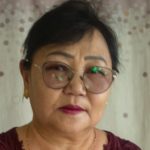 Baigal was the first "teacher". She left Anna Home after 12 years of loyal service. She retired in 2018, but she still works regularly.