A (NEARLY) NEW ANNA HOME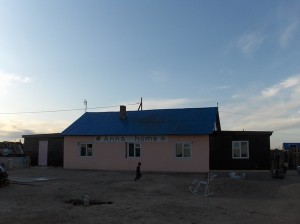 With my own eyes I could now see what happened in the house. On the left in the picture the training centre, on the right the extension of the home. In August Hassan and Negin with their daughter Ramona and also Maryleen, all from Colour4Kids, were during weeks working to assist in the Construction work and to colour Anna Home with paintings on the walls.
Also the singer Nynke Laverman visited a few days to help and to sing. Around her concert on October 10 in hotel Figi in Zeist we made a small programme in which Colour4Kids will tell and show what happened. For those of you in Holland: if you are interested to come, please let us know by e-mail so that we can reserve a place for you.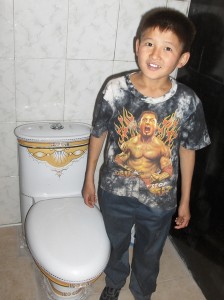 There are two showers and a real toilet, both are a big step forward. The bedrooms have been made bigger.
.
.
.
.
.
.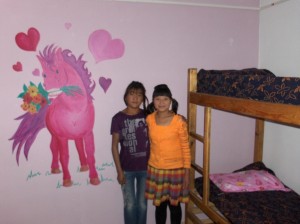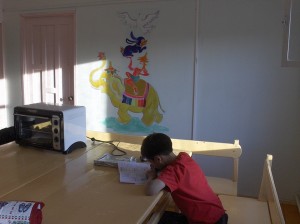 The Construction of the training centre is ready; this week Boldsaikhan travels to China to buy computers, sewing machines and carpentry tools. He then only needs to find teachers and the lessons can start. The rooms are decorated by a quilt that was made by the donors in Voorschoten.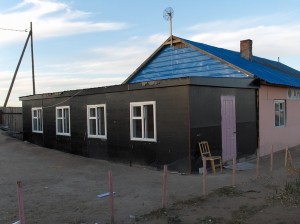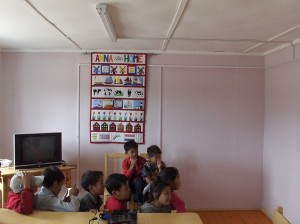 The fence on the front and the backside have been renewed. The ruins have been replaced by good wood. Hopefully we will be able to replace both other sides next year.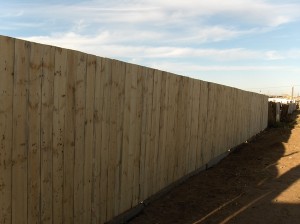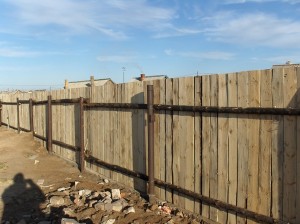 Finally we bought a piece of land and a ger in which the children who become 18 years old can live on their own with some assistance from Anna Home. In October the First two will move in, in January two others will follow them.
VISIT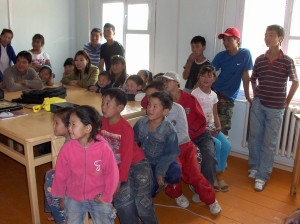 It was great to be back. I was stormed and hugged by 25 kids who seemed as happy to see me as I was to see them. I was given some films by the people of Colour4Kids so that they could see themselves on the wall with the help of a projector. It is still fascinating to see how these children live together in great harmony. I had a meal with them a few times, noticing that each of them waited patiently on his turn. In this not quite polished country this is remarkable, pushing aside is a daily nuisance in shops and banks. Only the sound of 25 slurping people attracts attention, but this is allowed here.
MARG CHAMBERLAIN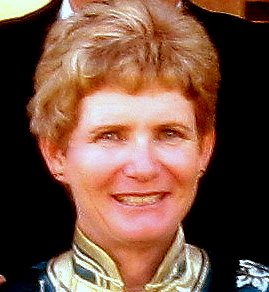 I find it very important that we found a successor for Jim. From now on Marg Chamberlain, an Australian volunteer with VSO, will assist Boldsaikhan with the management of what seems to get bigger and bigger. She will stay in Choibalsan for another year and a half.
.
.
.
.
BUDGETS
We made budgets for the house and the transitional home and we had a board meeting in which they were approved, although there were only two of the four members, one of whom had somewhat intensively celebrated the 70 year anniversary of the fire brigade. As soon as the budgets also will have been accepted by the Dutch board they will be publicised on this site. One of the changes is that we set a goal of 8% of the total budget to be collected in Mongolia.
FAREWELL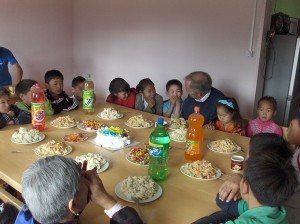 My visit ended with a party lunch. The table was nicely made and in the middle was a big cake. Of course we ate buutz, the traditional food in Mongolië. The girls sang, the big boys sang, even the smallest Ganzorig sang.
.
.
.
.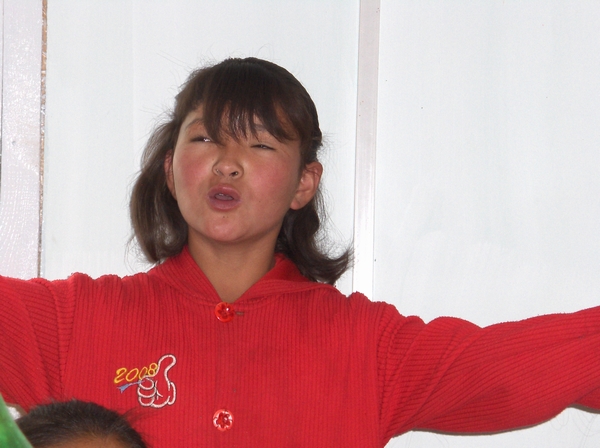 And Zolzaya recited a story, of which I did not understand anything, but the intensity with which she did it made it al the same thrilling.
Maarten