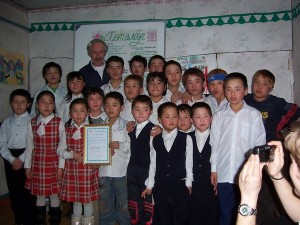 In February Maarten left Choibalsan and that was a good opportunity to practice a concert for the first time. The children dressed up and they all took part, some kids were singing and dancing, others did drama and said mothers and fathers verses. Many foreigners helped them and we all have the best memories about it.
In this way we not only thanked Maarten but also the people in The Netherlands from the "all for children" foundation and the other people helping us!
.
NEW CHILDREN
In March two boys left Anna Home. Uuganbayar went to Ulaanbaatar to live with his brother, who came to Anna Home to pick him up. Altanshine went to his home, because he was missing his mother. He is living a hard life now and we will let him back to the house if necessary.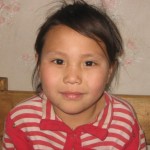 In their place two girls came to Anna Home: Urantuya is 8 and Ganchimeg is 15 years old. We are trying to get them to school, which they did not before.
Last week three kids came to Anna Home to ask if one of them could stay. I had to say sorry because Anna Home is full. It was hard for me say no but I still need to do it!
.
HELP FROM PEOPLE FROM CHOIBALSAN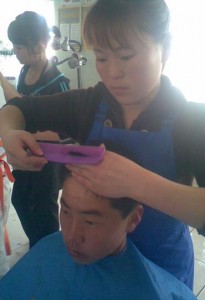 Last month students from three different classes of the Technical school helped the children! The hair dressers students cut their hair, others repaired their shoes and some girls taught cooking.
From Dornod university two students did practice at Anna Home for three weeks. They helped the teachers and the kids making home work and teach the children how to take care of themselves outside and inside Ann Home. The students were happy about how the children behave, saying that they are doing good, but one or two children get angry sometimes because they are missing their parents. But we don't know where their parents are. The students enjoyed working with the kids and they said if we have free time we will come to help again.
Some of the children like this especially because they want to have good sisters and brothers.
Save The Children gave us training about how to care for kids, about laws for children and how to raise them.
The commander of the fire brigade came to Anna home to teach the children how to be careful with fire!
Some teachers of the Red Cross came to teach about first aid.
Boldsaikhan