The new building
For a long time we thought that the new building would not be ready before the winter. We were too gloomy! The house is growing fast, there is a roof on it. They are now doing their utmost to close it in October and then have the heating ready. Then they can work inside, even when it is freezing.
A friend, designer, is already working on the outside. There will be plates with insulation material and those you can paint, e.g. as in this proposal from her: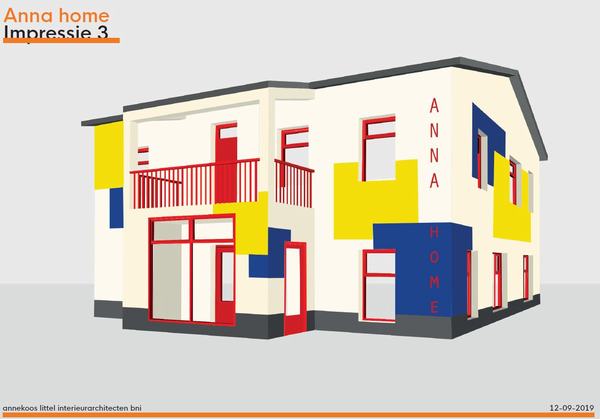 There is now a contract with a contractor, in which all salary costs are recorded, namely 108,000,000 Tugriks or € 36,000. The Mongolian board has approved it. We hope to get a better view of the material costs soon. Boldsaikhan and our construction supervisor buy most of the things together in Ulaanbaatar.
We hope that we can open the house in January with a beautiful ceremony. Are you coming? It would be nice if we could be there with many people from Holland and from other countries. Don't be afraid of the cold, just dress well. It is the most beautiful season of Mongolia, I think. Just sign up quickly.
Boldsaikhan was in the Netherlands for two weeks. Many of you have met him. Here is a report, first from him and then from Aart and me.
My trip to the Netherlands
I arrived on August 27 after a long journey. I had never flown so long. Aart and Maarten were waiting for me at the airport. The first week I stayed with Maarten and Karen. We walked through Amsterdam, I saw 500-year-old churches, museums, bicycles. We made a boat trip through the canals. Holland was very different from what I had imagined!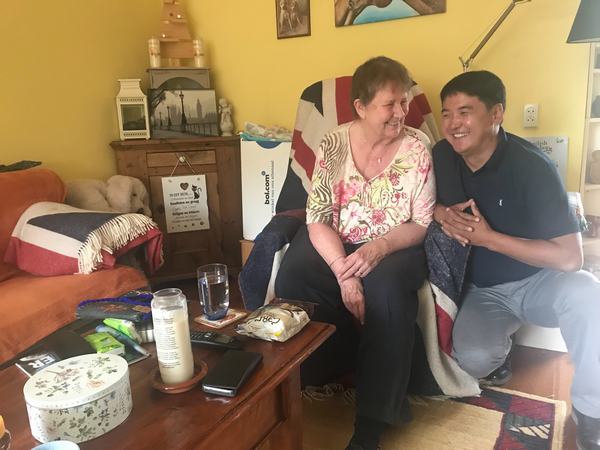 We went to Anna, a trip of 150 km. We were both so happy to meet after 13 years of help from her! She said she had not seen Maarten for 40 years and then suddenly saw his weblog on the internet. Then she helped us buy the house.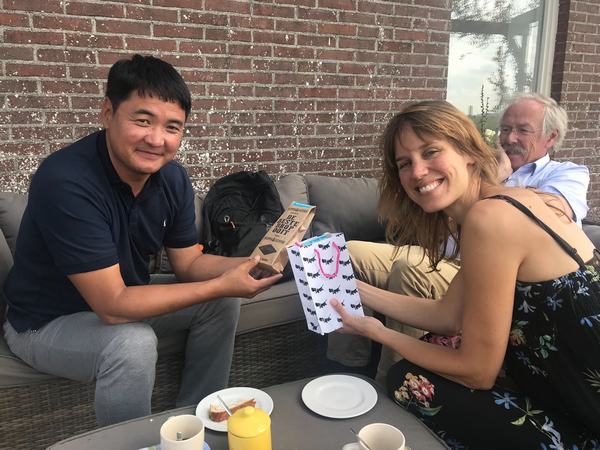 Then we drove on to Nynke Laverman. She came to Choibalsan 10 years ago and helped us by telling about Anna Home in her concerts. Where she lives it is so green and flat!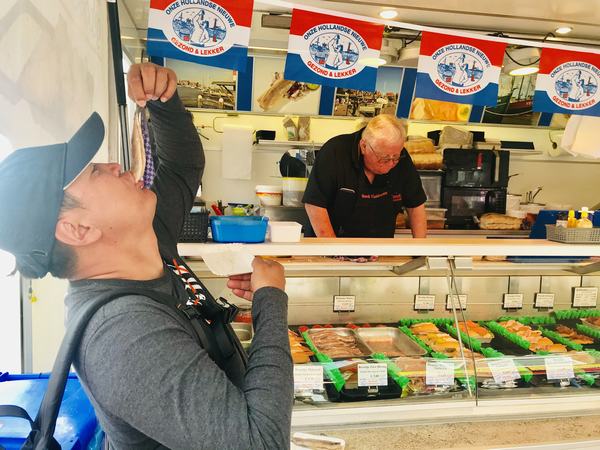 The next day we made a 60 km bike ride. I saw windmills, we were on a boat and I ate herring. We also saw a lot of swans. We have seen so much!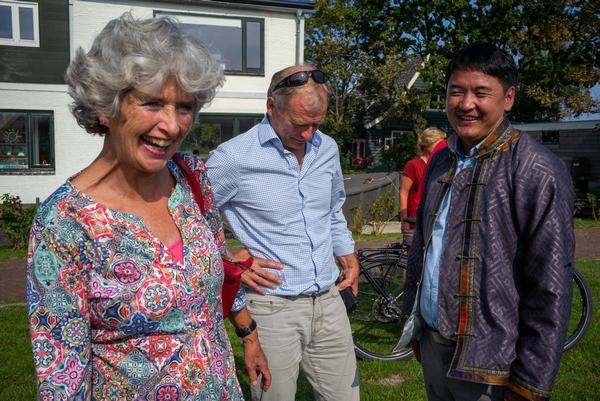 The main purpose of the trip was of course to meet donors. Many came to Maarten's house and we talked a lot about Anna Home and what happened this spring. I am very grateful to everyone.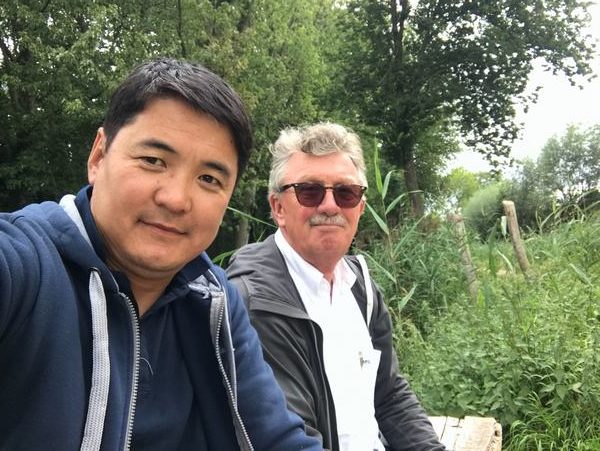 After a week Maarten brought me to Woerden, to the house of Aart and Titia. I also made a long bike ride there, we visited Rotterdam and we also went to the North Sea. For the first time I saw the sea with its waves! We stayed the night on the beach in Aart's cottage and he cooked for us. In the church of Aart I told about Anna Home and I also met Mongolian people who live in the Netherlands.
One day I went to Hassan, in Arnhem, where the 75th anniversary of the end of the war was commemorated. It was nice to see him again and to eat Iranian food.
My 14 days in the Netherlands flew by. I have seen and experienced so much! I am very grateful to everyone for all the help we have received for 13 years now. I wish everyone the best and lots of love and goodness.
Boldsaikhan.
The first introduction
If you have never been outside of Mongolia (with the only exception of a little part of China) then you will be surprised. And he was! Houses of 400 years old, churches where you can burn a candle, cyclists on cycle paths, large roads without pits and crossing horses (he thought it was scary that I was driving so fast) and especially a lot of water. The idea of ​​a sluice was completely new to him; you don't need them in his country. And it is also so green here … I just let the photos tell the story.
On Saturday we had invited all donors. Aart and I have compiled a book with the title "Anna Home…. therefore". The first copy was for Boldsaikhan, many others for the donors present. There are still some left, so if you want one then you can. Rieneke Iemenschot offered a new quilt. The old one had a very central place in the house, was on almost all the photos, but was burned. She and a few ladies in Voorschoten made a new one, which was much more work than I had ever thought. A small piece of the old atmosphere will be reflected in the new building.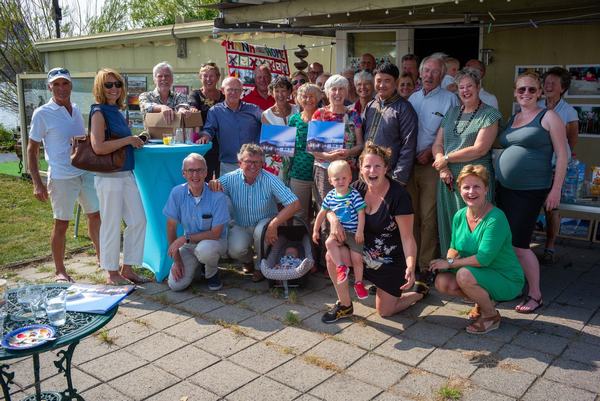 Maarten
Surprise … mutual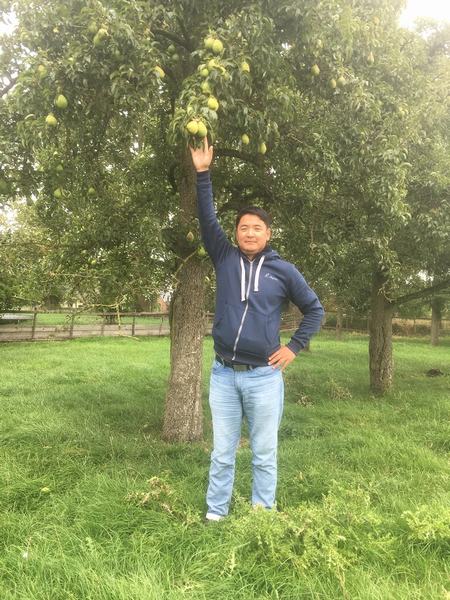 What happened to me when I first visited Mongolia in 2008? The first time in an Asian country, a completely different landscape, no ditches, endless steppes, nomads in a ger, and 3 million inhabitants in a country that is 10 times the size of our country. With this in mind, I spent a week with our friend Boldsaikhan. We cycled from Woerden to Oudewater over the Linschoterdijk where small orchards stand. Boldsaikhan has to stop: an apple on a tree and many under it: "free to eat" …? he asks. With us on the market two euros each and … "here as animal feed", I said. Astonishment at Boldsaikhan.
We visit the Hoogerwaard shipyard in the Waalhaven in Rotterdam. Two ships are on the cross slope. Time for a selfie: nobody has seen this in Mongolia. Gûllen, of Turkish descent and one of the foremen on the site, addresses Boldsaikhan: We are family! … Family? asks Boldsaikhan surprised. "Yes," Gûllen replies, "Genghis Khan is our common ancestor."
On the ferry from Rozenburg to Maassluis, Boldsaikhan thinks for a moment that he is at rest: the lid of the boat is up: time to fold the chair back and take a nap until the lid goes down again. Surprised, I ask "what are you doing now?" Waiting … he says. I tell him that we are on a sailing boat … Boldsaikhan gets out quickly and yes: another selfie on this special colossus.
What happens to someone 44 years old who sees the sea for the first time … "God is great" … he shouts. And what about swimming in the sea: hesitant, amazed at the temperature of the seawater and the salinity, but super proud that he put his head under.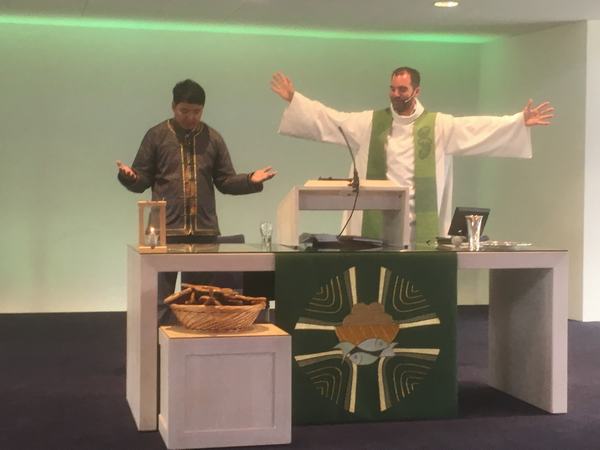 On Sunday morning in the Kruiskerk in Woerden. For a full church, thank the people who support Anna Home and speak the blessing together with the pastor … He is proud that he succeeded.
And so I can go on and on. The greenery, the ditches, the sea containers, meeting with two Mongolian women who live in the Netherlands, the introduction to homosexuality, hearing the story of the persecution of the Jews during the Second World War, doing groceries himself at the Jumbo and a round of unaccompanied cycling.
Amazingly unforgettable for Boldsaikhan … and surprisingly confusing for me too. For me, the question remains behind what "happened in his head".
Aart