We were Anna Home again! Aart Sliedrecht and me. It was great so see the children again. There are now 23 in the house and three in transition home. Three children recently left and one girl came. While we were there Boldsaikhan was approached in school about two girls who need shelter. Maybe they will come to live in the house in the coming days.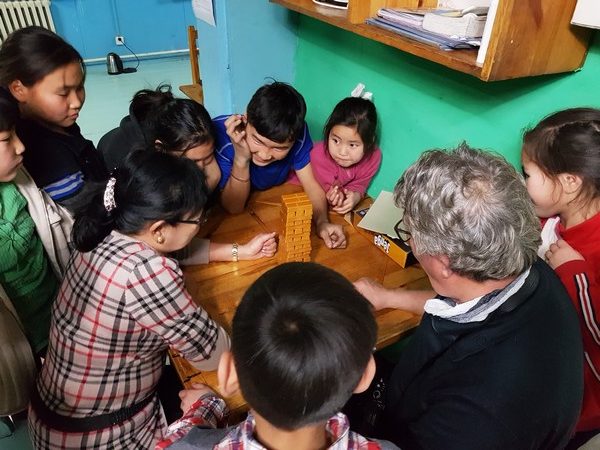 We saw the big ones help the young ones, with clothing (cap well over thee ars, shawl on, gloves!), with homework and with all those things that young children yet need to learn. Four of them are six years old and they have to save themselves in the great people world. It is exciting to see how these small children move around school without any fear, through the crowd of fellow pupils, till 18 years old. Coat in the lice bag and enter the right classroom.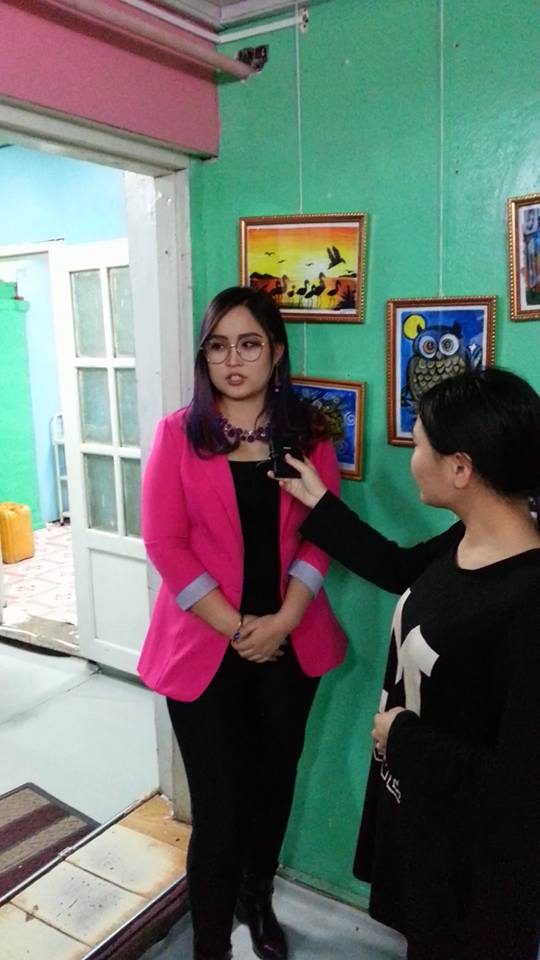 The children are much more busy than in the past: there are dancing lessons at night in school, there is training for sports and then there is Zaya, the artist who teaches drawing, free for our kids! She organised an exhibition in the house of productions by our children. She is one piece of enthusiasm.
And then there were the meetings with ex inhabitants. First in UB and later in Choibalsan with four young mothers. That is when you notice again why Anna Home exists. These eight people are completely on their own feet. They don't need help anymore!
.
.
Promises for the future
(written by Aart) When you are a few days in Anna Home, there is time to see what happens with the children outside the safe walls of Anna Home.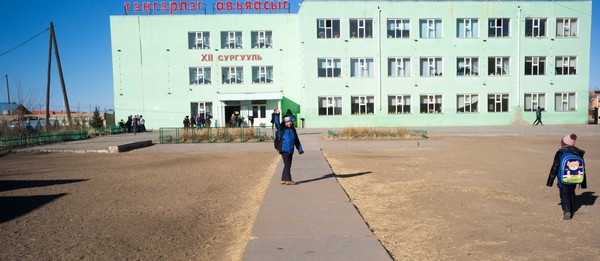 With teacher Bolortuya  I visit a few schools in Choibalsan. They are built in the seventies and look fairly modern. Remarkable: the ambiance in school is the same as with us: running, playing children; running on the stairs; small groups around a smartphone. You realise: yes, the children of Anna Home grow up here (maybe the largest family in Choibalsan). Together with friends they learn their way through life in the society of Choibalsan, just like my granddaughter Rosalie in Woerden!
There is discipline in class: pupils neatly in uniforms, book in front of them, the teacher gives exercises and the pupils listen and work … or does it go wrong sometime: revolt in the class? I did not see that when I made the photos  of Ganbaatar, Altantulga, Ganzorig and Anu. They felt like the "the movie star" of the class.
In Anna Home Maarten and I talked with the older children. What do you dream of, what do you want to study?
Ganbaatar (2000) is good at English and Mongolian in school. He wants to study international relations at the Humanity University.
Altantulga (2000) is good at IT, he likes computers. He plays volleybal. He wants to study graphic design in Ulaanbaatar from 2018 till 2021.
Ganzorig (2003)  wants to go to the officers' training of the army later. He still will have to go to school till June 2022. His plans are not concrete yet, he is still very young. He plays football and basketball. He is good in mathematics.
When you see them in their daily life, you realise how important the preparation for a self-supported life after Anna Home is.
Ganbolor, a new girl
Six years only, she is. Her parents separated. Mother has gone, father took care of her. But that did not work anymore because he sold everything he had to make it possible for his older daughter to study medicine. Now father Ganbold and his little daughter had to wander from house to house. She could not go to school, he had no work. Anna Home offered the solution for her and even for her father: he can work as a guard for half a year, with which he earns the minimum wage (around € 100 per month).
We wish you all the best for next year. In case you consider to become a donor, please don't hesitate. A Euro (or dollar or pound) per day helps us enormously, if at least you keep this up for a while.
Maarten