New children
Urantuya lived in Anna Home from 2008 to 2013. Her parents wanted them back by that time and with pain in the heart our people had to let her go. But now she is back! Together with her two younger sisters Anu of 6 en Uranzaya of 3. Her parents separated and that meant that there was no more home to live in. How difficult life is for some of us! On this picture the three sisters. We will take good care of them and now the small ones can also good to school.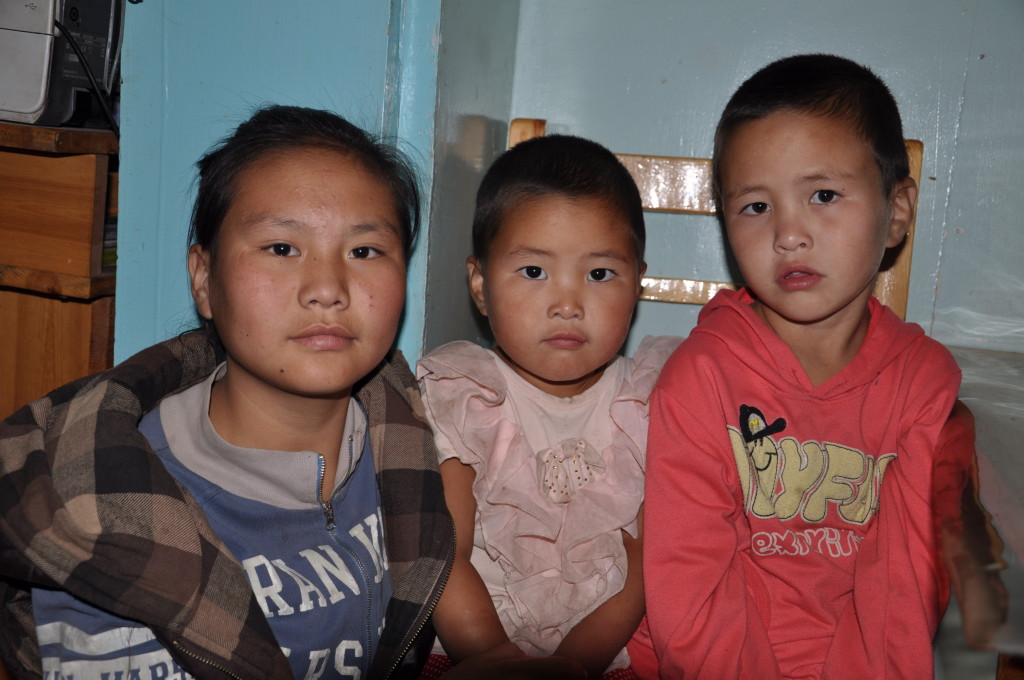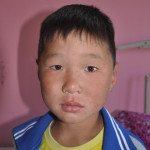 Ganbayar came this week. When his mother became pregnant of him in 2006  his father left her. Mother found work as help of nomadic families, herding their cattle. A hard life on the endless plains of Mongolia. She wants to give him a better life and she wants hi mto go to school. And so she brought him to Anna Home. He is a healthy boy, was never realy ill, only fell of a horse twice, which is just as usual in this country as a Dutchman falling of his bicycle.
.
Summer camp
Boldsaikhan writes us: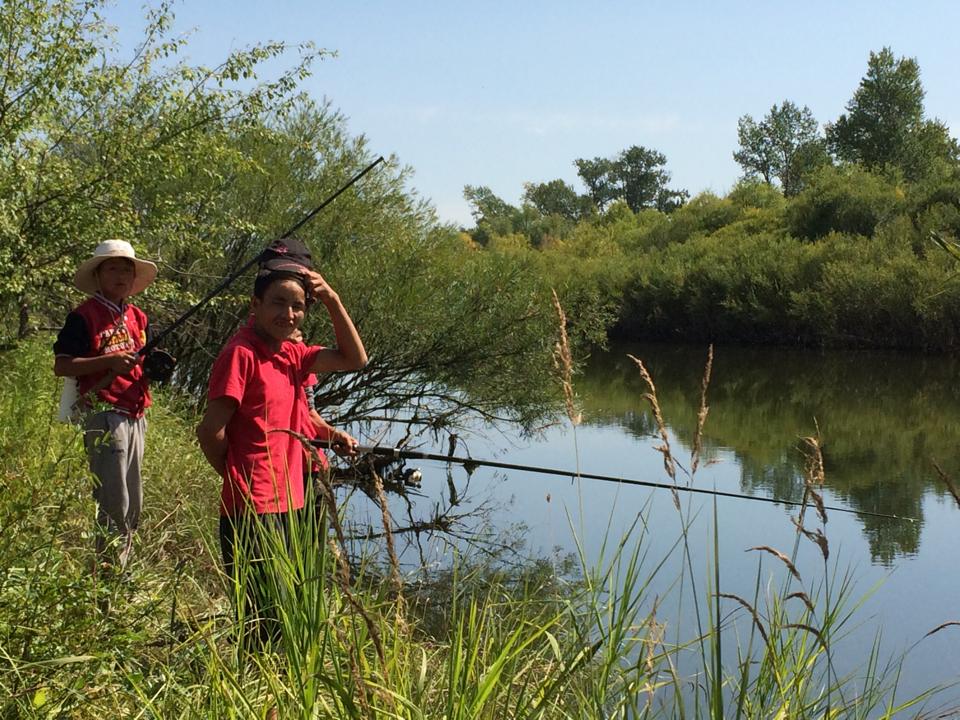 Thank you for making possible our annual  8th summer camp in the village Bayan uul, close to Mount Ulihan, just beside the Onon river. Back to history: this place was the birth place of Chingges khans mother Oulun. But during the trip to Bayan uul  we got flat tires. It made us stay in a village overnight.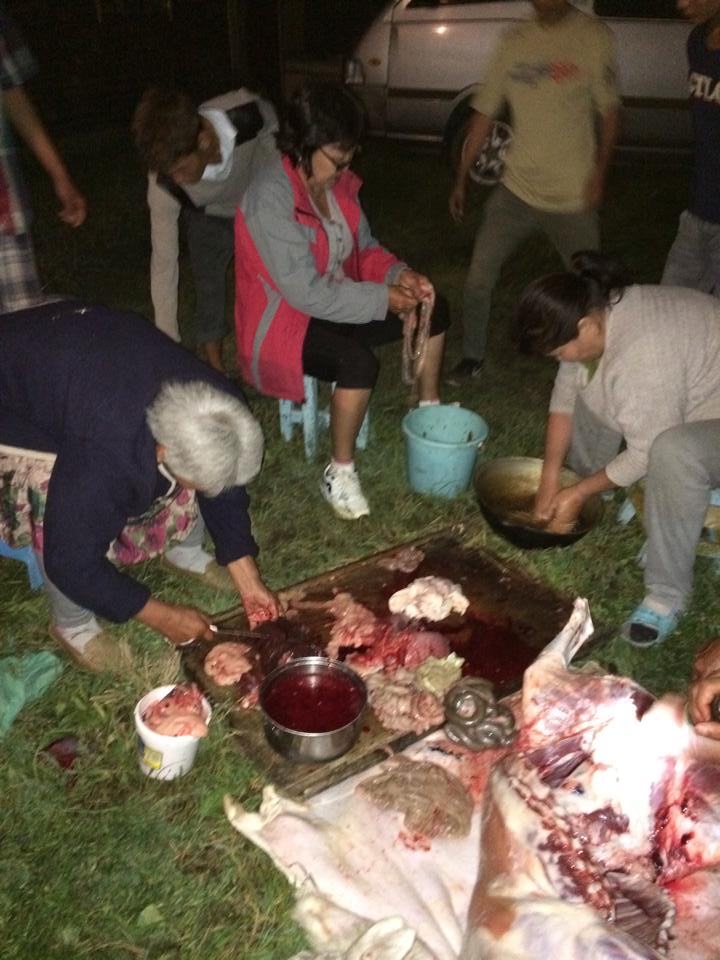 .
.
.
While we were looking for a sheep for our camp meal a local shepherd listened and when he knew that we are orphanage  kids he gave us a goat for free and we bought one more sheep for a low price.
.
.
Then next morning we arrived in the place that we had chosen. We set up our tents and camps and went discovering the surroundings. After 2 days staying just beside the river we decided to move because of coming rain. We found an old friend to borrow us a big cabin in which all of us could stay as many days as we needed. Since then we went through the program that our teachers prepared. Every morning at 5 am I blew the horn and we went jogging and did morning exercises. Then back to wash ourselves and eat the breakfast that the teacher on duty  had prepared. During our stay in the cabin our neighbours brought us milk and bread, butter and cream. The kids also helped them to collect wood and cattle's poo for their fire. We crossed the river, picked up herbal leaves and collected seeds and fruit.
The children divided into 3 groups and each teacher gave lessons and played games. There was no time for standing, we had tough schedules for hiking. We had adventures in the mountains and we could see wild gazelles, many different birds and huge forests. We caught fish and the teachers cooked delicious soup for all of us. We had a great and memorable time with lots of fun. A local resident, a 93 year old lady who is a herbalist, taught us about herbal leaves and plants. Later our teachers picked up more of them for the health of the kids.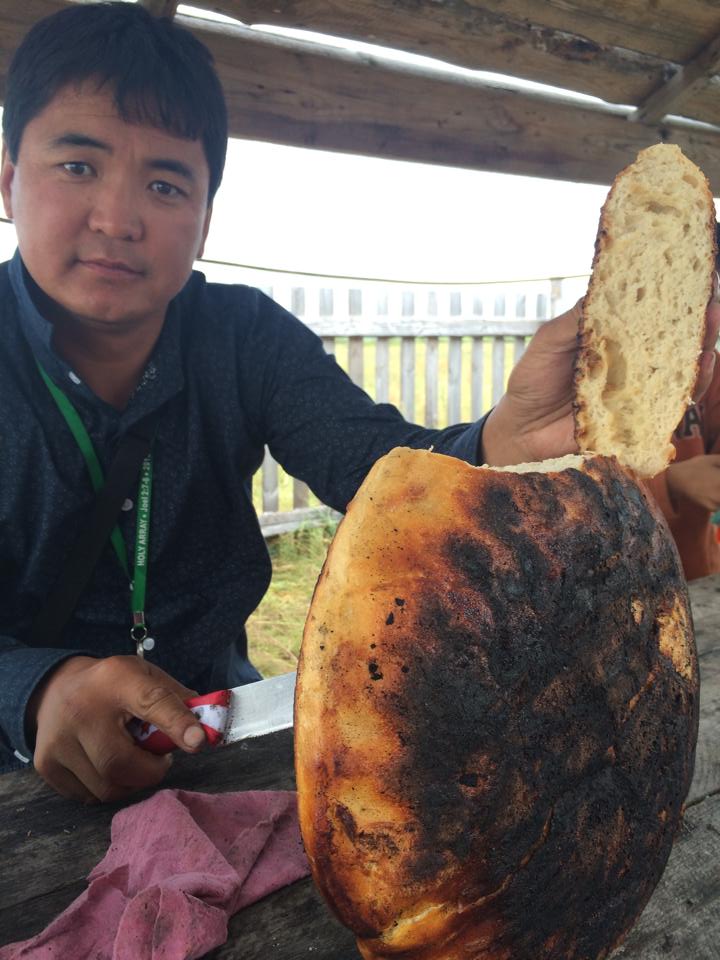 The days passed quickly and we had to pack our things and go back to the city. On the way we sang songs of prayer and joy. I believe this was not just an ordinary go-back-home-day but one full of joy and memories left in the hearts of the kids. It bond them like a family and inspired them before school days. I conclude that this camp was awesome fruitful. Thank you again that you made it possible. We love you, Boldsaikhan
 .
.
.
Fundraising
Many Dutch people send us money every month or every year. We are enormously happy about that. It gives us a good basis and we can be sure that we can continue our work.
Sometimes however we also receive "incidental" money. Lately two ladies asked their friends and family to sponsor their sports event and raised more than € 1000.
We also received a very substantial contribution from a successful investment fund. They make it possible for us to do a few special things for Anna Home. For example we now have a fund to pay the study of those children who want to continue schooling after high school. We will provide training for the personnel for parts of their sometimes difficult work. And we will bring Internet back in the Home. It has been there, but there were big problems with the long distance to the exchange in the city. Now we have the money to solve these problems. Within three weeks they will be connected to the rest of the world!
Board
The Dutch board underwent a very special expansion. Oyuna Byamba grew up in Choibalsan. She has lived for many years in The Netherlands now, where she works as a Mongolian interpreter. She became a member of our board and will help us in crossing the bridge between the differences in language and culture.
Every year I visit Anna Home. This winter I will do that again. Sometimes I hear people say that they would like to come along. Mongolia is for most people unknown territory. And it is so beautiful! In case you would want to come, please let me know. Maybe we can organise it.
Maarten