BIG PRICE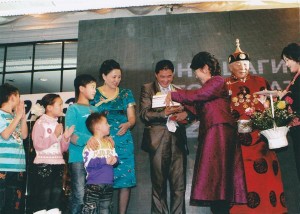 National television, channel 9, had a competition. Everybody in Mongolia could participate. The people of Mongolia could vote through the internet for four "Heroes of Mongolia". And we WON! I went with four children from Anna Home to Ulaanbaatar for the final ceremony. We were brought to the big dinner in a Hummer and the whole time there were camera's. A famous wrestler was very emotional when he gave me the price, because he himself had lived on the street when he was small. The broadcast on TV was more the an hour and now everybody knows Anna Home.
FOUR CHILDREN LEFT ANNA HOME AGAIN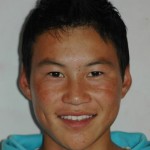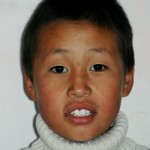 In September 2010 a family of four children came to Anna home. Their names are Horloo, Horolsuren, Otgonzul and Altanzul. Their parents are divorced and their mother married another person. Then their father killed the new husband and went to police. He was sentenced to jail for four years and four months.
.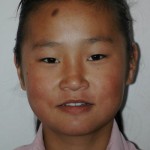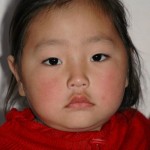 But one day the mother came to Anna home and said I want to take my children back. We said no to her but she went to the police and the judge. The law of Mongolia states that she can take back her children and so we gave her the four children. They lived in Anna home for four months. We helped them with schools materials, food, clothing, their health, we just helped them with all things they needed. The youngest girl went to kindergarten. They went back to her mother in January 2011 and we hope that she will take good care of her children, because we need to follow the law of Mongolia.
OTGONTENGER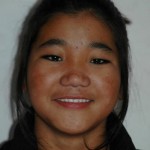 Otgontenger lived in Anna home for three years, and in that time she studdied in high school and she learned many things to take care of herself in the future. After she finished high school in the ninth class she went to the technical training center, in sawing class. She went back to home because her mother's health is not good and she needs to help her mother and sisters. She wants to help her family but her life is not nice. They live in the entrance of an apartment in an extremely small room.
ERDENEBAYR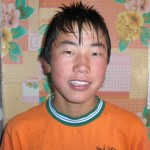 He lived in Anna home for three years and he made good friends with the other Anna home children. He learned many things. He went to his home because his mother came from Ulaanbaatar. She lives now in Choibalsan with his oldest sister ant they need the help of someone, so they wanted to take back Erdenebayr. He went back home and we hope that he will take care of himself well. He is in the technical school, in carpentry class. His mother and sister said thanked us a lot.
TEACHERS IN ANNA HOME
Teacher Bolortuya is going to have baby and so then she took a break to her home. Instead of her Baigal is working at Anna Home again, as she did before for more three years. The children like it that she is back again. Soon also Badamkhand will take a break, from April, because she will also have a baby. Instead of her Uranchimeg will work again. She was away to have her baby, who is now 7 months.
THE CHILDREN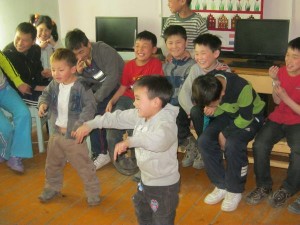 At Christmas they send some gifts from Holland to the Anna Home children. We received it a little too late but they were such nice gifts. All children were very happy. In the box were many kinds of gifts, such as a key ring with a photo of every child in it, an albums with pictures, puzzles, candies. The children thank all people from Holland. In the beginning of in February was the Mongolian tsagaan sar (Newyear) The children had a break to go to their parents for traditional greetings. It was good for them because they had many gifts. Also the chairman of the All for children Foundation came to Anna home and she gave to all children gifts and cakes. Some local people are helping Anna Home because they know about us through the national TV channel.
A NEW GIRL IN ANNA HOME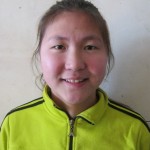 Her name is Monkhtsetseg she is sixteen years old and came from an orphanage in Ulaanbaatar, where she was for a year. The social work office in government asked me to take care of her in Anna Home, because the police shut the orphanage. She came to Choibalsan with two teachers and we received her by the end of February. She wrote this: "I really I like to be here the children and teaching to them English they help me to do all things in the house. Anna home the children they like to say some to you all. I like director of Anna home very much because he takes care of us so good I like to be him."
She is talking in English so good because she lived with American people for 13 years, because she has no parents. They found her. She does not know her parents and she has a very nice character.
P.Boldsaikhan