Anna Home is a wooden house, built within a 'hashaa' (basically, an area of land in the city with a fence around it). Many people in Mongolia live in a hashaa. The enclosure provides some safety and a degree of privacy for the houses or gers situated within it. (A ger is a circular felt tent which serves as a traditional means of accommodation, as well as a way of life, in Mongolia).

Anna Home has a living room, a big kitchen and three dormitories. There is also a small office and storage room. Toilet facilities are rudimentary: basically, a wooden outhouse placed over a deep hole in the ground.
Since the summer of 2008 there is water, found on a depth of 64 meters.

Heating and cooking facilities are provided by means of a wood/coal fuelled stove in the kitchen. A pipe attached to the stove also provides heating to a radiator in the living room.
The hashaa is relatively large (approx 60 x 40 meters). In the spring of 2008, a large vegetable garden was created as well as a hen house. The children share responsibility for the upkeep of the garden and the care of the poultry. These initiatives serve as a means of teaching the children some basic skills as well as providing them with a healthy supplement to their diet.
.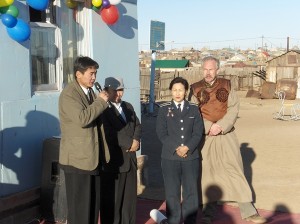 .