The 25 children live together in the house. They all have tasks and share in the housekeeping, for example: fetching coal; washing the dishes; cleaning; and helping with the cooking.
Since September 2007, they all attend school. For the older children, this is their first experience of school for several years.
A very important goal for the organisation is that the children should at least learn to read and write. This will improve their chances of living independently in later years. Half of the children attend normal classes however others have such gaps in their schooling that they require special tuition in one of Choibalsan's schools in order to 'catch up' with their peers.
The Mongolian NGO employs seven people, Boldsaikhan: director and founder and three women who work and live in the house (on a 24 hours shift rotation):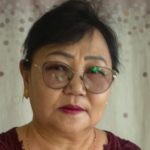 Baygal left Anna Home after 12 years of fantastic service. She retired in 2018. She was the first teacher!
These three women take care of the children: cook; wash; clean; ensure that they leave for school on time; and help with their homework when they return. However, these women have a greater role. Not only do they attend to the normal needs and concerns of young children but they also have to address the raft of emotional needs exhibited by children who have suffered years of neglect and abandonment. These are special children and these women are raising them.
Every night one of the three guards is present.