Because there is so much news to tell you, this newsletter comes shortly after the last one. The next letter will be all about the first lustrum of Anna Home, which we will celebrate on November 3, exactly 5 years after the official opening in 2007. I will go there and I invite everybody to come with me and join the party.
The following text is entirely from Boldsaikhan:
SUMMER CAMP AUGUST 10-21, 2012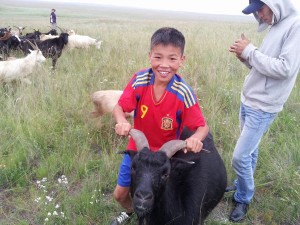 This year we had for the 5th time our summer camp, now in the village of Dadal, in the province of Hentii. We left Anna home with two mini busses and my car. On the way we bought a sheep from a countryside family.
.
.
.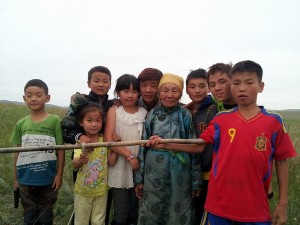 There was a grandmother and she gave us one big sheep. We were very grateful to her because we tried to buy a sheep, but it was hard for us to find one. We continued our way and found a countryside family. We stayed at that family and ate dinner: our drivers killed a sheep for us to eat. We slept in the cars because it was raining so much and the road was too difficult go with a car.
.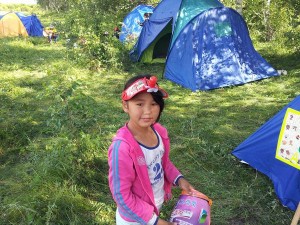 Next morning we left the family. The second day we reached our camp in Dadal. Then we put our tents at the foot of a mountain and we made a kitchen, toilets and a washing room, all outside in the nature, using old dry trees. Next day I went to the mountain and the river with the children to look around in the nature. It was so nice for the children because we saw many kinds of birds and mushroom, flowers, fruits. We made four groups of all the children and they made everything for themselves, such as lunch and a fire.
We visited the museum of a local old man, he is 96 years old. He made a museum because he is a famous Mongolian hunter. We saw many kinds of animals and historical things. Some of our children sang songs for him and he was so happy for it.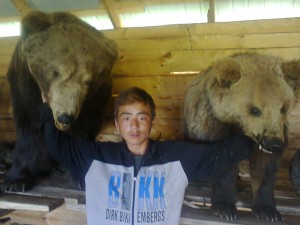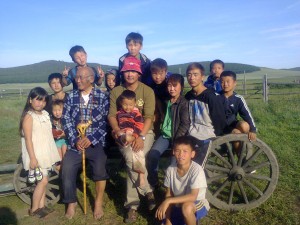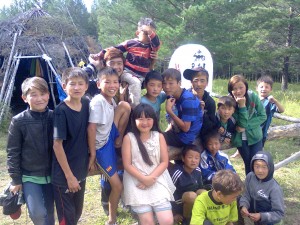 Also we saw a small hut in which the grandfather of Chinggis khan was hiding. Every day the children went to the river, collected fruits, were singing with the guitar and played sports games. In the middle of the night we heard wolves. It was scary for us but guarded ourselves and everything.
I was leading during the whole trip with the children and I liked very much. Camp was very interesting for the children with so many kinds of flowers and grasses and with the water. We never forget this camp because we felt wonderful in nature, we liked the museum, the energy center in the mountain etc. We thank all our donors in Holland and Mongolian.
THE KITCHEN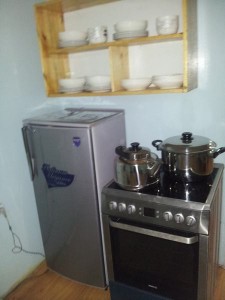 This summer we have renovated the kitchen very nicely and we have bought all the tools that we need in the kitchen such as an electric stove, a fridge, pots and pans, a water boiler. We renewed the ceiling and the light, we fixed the floor with linoleum and we painted the walls and doors. This took a long time, but now we have a new kitchen. All the children and teachers are very happy about it. Some of the children make food in their new kitchen. All the children say "thank you" to all the sponsors.
.
.
.
GIRL'S ROOM
The director of the local "Ogoomor café" gave us 365.000 Tugrik to fixe the girls room. She came to Anna home to meet the children and she liked to help us. After we will have done the work in the girls room we will invite her to see it. We thank her for it.
BAYRBAT, A NEW BOY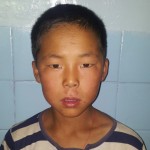 My name is Bayrbat. I was born in the village of Dashbalbar, in the province Dornod. My mother's name is Oyunchimeg. My mother does cleaning in a shop. I don't have a father because he died when I was two years old. I went to school in Dashbalbar and went to second grade with good results. I can sing, dance and play and I like to do all those things. In 2011, at a horse race, I finished in third place. I like to ride a horse. And now I like to be in Anna Home because I'm going to school to learn more things and I have a lot of friends. Before I came to Anna home I used to work at people's houses and earn money to buy food for my family. And now I'm very happy to be here. I am happy to be in Anna home.
NOMIN-ERDENE A NEW GIRL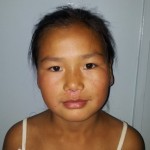 My name is Nomin-Erdene. I'm eight years old. I was born in the village of Dashbalbar in Dornod. I don't have daddy. My mother's name is Uurentuya. She works in Mardaid, going to people's houses and guarding them. I have a younger brother who is two years old and his name is Uuganbayar. I used to go to school in Dashbalbar in first grade and I stayed in a dormitory. That was very hard for me. Now I live in Anna Home and I have a lot of friends and brothers and sisters and I'm happy for that. And now I will be in second grade and I will study very well.
Did you know that we are on Facebook? The page is simply called Anna Home. You can follow us there.